About IRF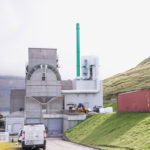 IRF is a Faroese intermunicipal waste and recycling company, which is owned and administered by all municipalities in the Faroe Islands, except for Tórshavn. IRF operates in the area of its members all over the Faroe Islands and employs around 100 people.
IRF's
operations include:
Collecting household and commercial waste
Recycling
Incineration plant
Waste oil treatment plant
Handling of hazardous waste
Recycling centre and landfill in Trøllavík, on the island of Suðuroy
Iron recycling centre at Gjánoyri, on the island of Streymoy
Vehicle scrappage sites in Klaksvík, Sandoy and Suðuroy
Sewage management
Circular
economy – the sustainable way to go
IRF
supports and works toward spreading the vision of a circular economy in the
Faroe Islands. Circular economy is a framework for rethinking consumption and
production in an environmentally and commercially sustainable way. The concept
is based on the cycles of nature, where everything is recycled in a new context
instead of being left to waste. A prerequisite for the circular economy is that
we become better at sorting valuable resources for recycling from waste. These
guidelines are intended to help those wishing to extend the environment as well
as helping future generations by sorting waste properly. Together we can leave
a more sustainable world for future generations.